Brooklyn-based babe quartet (with members from Detroit), Habibi, just released this montage of visuals (shot during their trip to SXSW, a post-Austin tour, travels, etc.) for "Tomboy" and it's just as fun and adorable as you'd think. You may recall their sound as James Franco used their track, "Sweetest Thing" for a film series he did for Seven For All Mankind Jeans in March.
I had a groundbreaking Facebook chat with the raven-haired lead singer, Rahill Jamilifard. Here's how it went:
ME: Do you think tomboys are better than not tomboys?
RAH: I wouldn't say tomboys are better than non, but, I will say growing up a tomboy builds a lot of character for a hairy legged, mismatching, loudmouthed 10 year old.
ME: Are you a tomboy?
RAH: In essence, yes. Don't get me wrong, I wear heels. I just skateboard in them.
ME: Do you know any boys named tom? I love you!
RAH: I know a few Toms.
Anyway, enjoy the video. Also, good luck not singing "Tomboy" for hours (and hours and hours) after watching.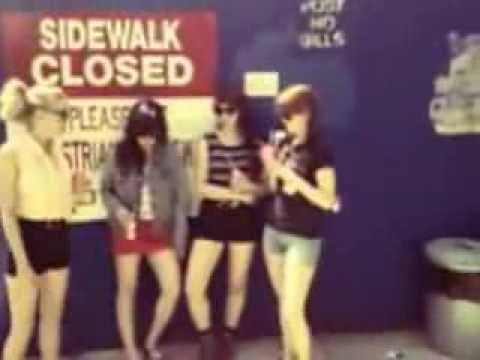 If you'd like to catch Habibi in the flesh, they're touring with King Tuff this month.
June 09 – Brooklyn, NY – 285 Kent (w/ King Tuff)
June 10 – New Haven, CT – Intercambrio (w/ King Tuff)
June 12 – Philadelphia, PA – Johnny Brenda's (w/ King Tuff)
June 13 – Baltimore, MD – Golden West Cafe (w/ King Tuff)
June 14 – Hoboken, NJ – Maxwells (w/ King TuffP
June 15 – Burlington, VT – Signal Kitchen (w/ King Tuff)
June 17 – Easthampton, MA – Flywheel (w/ King Tuff)
August 05 – Sound Bites Series @ Fulton Stall Market, NYC
For more, visit Habibi on Facebook.