"We shot the movie with no idea of how to put it together," says Tracy Marrow, better known as Ice-T, a 54-year-old gangster rap pioneer-turned actor/published author/reality TV star and, now, film director at a small Q & A session after screening his new film "Something From Nothing: The Art of Rap" at the Birimingham Palladium along with Public Enemy's Chuck D. The 113-minute hip hop documentary features a wide array of both old school and contemporary rappers from both coasts and in between from Afrika Bambaataa, Chuck D, Big Daddy Kane, Doug E. Fresh, Kool Moe Dee, Rakim, Ice Cube, Dr. Dre, MC Lyte and Salt (let's hear it for the ladies) to Bun B, Kanye West, Eminem, Nas, Xzibit, Snoop Dogg, Royce Da 5'9″, Mos Def and many more artists Ice-T, basically, had handy in his cell phone contact list. "I just interviewed everybody and we decided why don't we start with the essence, which is New York, and move across the United States. You may not see your favorite rapper but your favorite rapper's favorite rapper is in the movie." After a successful premiere at Sundance Film Festival, "The Art of Rap" hits theaters nationwide this weekend so it's safe to say he's done something right.
In the film, which took about two years to create and was mostly funded by Ice-T, he travels all over the United States (including a 2-day stint here in Detroit to catch up with Eminem and Royce Da 5'9″ in Eminem's Ferndale studio) to interview artists and emcees in their homes, studios and on the street. Instead of perched on a stool against some stale backdrop, rappers engage in conversation with Ice-T, sharing everything from their writing processes, styles, inspirations, to industry insight, freestyle raps and laughs. "Ice is alongside the person he's interviewing so he's, like, navigating the audience and he's navigating the artist/rapper," Chuck D says. "And he's doing a great job holding both sides of the court. This is what makes this movie more special than anything ever done before." Viewers can sense a sort of casual camaraderie among Ice-T and the rappers on camera which makes the conversations natural and, to me, more interesting than if, say, a non-industry person were to take the reigns on this project.
In other words, he was the right guy for the job.
As far as Ice-T's direction and interview process, he says there were no surprises. "I got exactly what I expected but, the thing is, I knew it. I needed y'all to know it. I know Chuck, I know Kanye. I know these cats. I know KRS(-One) is a fuckin' crazy fool. But I wanted y'all to meet 'em. A lot of people didn't know I was funny till they seen Ice Loves Coco. They thought I was a serial killer, you know? I was trying to catch people in a different light than normally."
Actually creating the film, however, was difficult for Ice-T but not because he's camera shy (he's had his practice on Law & Order: Special Victims Unit and, as he mentioned above, VH1′s Ice Loves Coco) rather coordinating shoot times with busy artists, himself and a film crew from London. "Making a movie is hard, it's a lot of work," he says. "I was just trying to get a conscious thought that moved through the movie without backtracking. It was difficult but I think we accomplished it. It's no disrespect but we were trying to get Ludacris. He's like 'Okay, Ice, I got you. Whatever you need. But I'm in Africa right now. It's just complicated."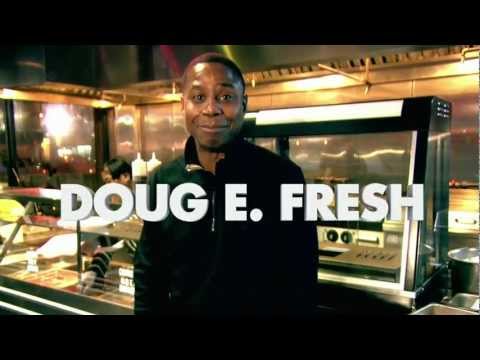 "The Art of Rap" focuses on just that, the art. You don't see any bottles of Cristal or other material items that many people associate with the music. The documentary is an in-depth, inspired and refreshing look at hip hop as a craft and culture but not without societal concerns and struggles, or as referenced in the film as "the B-side of the game." "They say those who know don't say and those who know don't say. Real cats know there's a B-side to the game," Ice-T says. He's lived the gangster lifestyle, has been involved in robberies and shootouts and even served in the military (yes, I've read his memoir), so when he speaks there's authenticity in his words. "When you're up here rapping about how great it is to sell drugs and how easy it is to get away with it, I know you're lying. That's the B-side of the game. You know, if you're not talking about the hardships and the pains that go along with this hustle, then you obviously ain't in it. I always try to show the B-side, that's it."
Though considered a controversial catalyst of gangster rap, Ice-T views his initial foray into music from a different scope. "Like Ice Cube said, it's street knowledge, you know. If I teach you how to make spaghetti it might sound gangster, that's the way my voice is (laughs). The gangster music that I was doing and Ice Cube was doing really was anti-gangster music packaged as gangster music because it laid on the B-side of the game. If you really listen to my records, like in ('O.G.') 'Original Gangster,' I said 'That invincible shit don't work, throw you in the joint, you'll be comin' out feet first.' So I'm constantly sayin' it's fun in the beginning but it's pain in the end. If I really explained Ice-T's gangster music to you, it was, like, I was running down a road, hustling, I was, like, fuck everybody I'm gonna get my paper, you know, I'm an only child, fuck everything. And I got to the end of this road and I seen there was a cliff. My musical career was me running back up that road yelling at everybody 'Don't go down that road.' I'm more thug than you, n*gga, don't try it. So really listen to 'Colors.' Listen to my records. 'I'm Your Pusher,' that's anti-drug."
"Something From Nothing: The Art of Rap" hits theaters on Friday, June 15th. Locally, the film is showing at AMC Star Southfield 20, AMC Star Gratiot 21, AMC Star Great Lakes 25, Emagine Canton & Emagine Novi. For more, visit TheArtofRap.com.